JOHN JOYCE (1933 - 2004)
John Joyce was a legend on the British Folk Music Scene . He dedicated his musical career to the 12 String Guitar. Blues was his first love and he appeared with such Blues greats as Howling Wolf, Jesse Fuller, Reverend Gary Davis, Sonny Terry & Brownie McGee. Throughout his long career he has also appeared with The Levee Breakers, Velvet Opera, Davy Graham, Bert Jansch, John Renbourn, Paul Simon, Roy Harper, Al Stewart, Sandy Denny, The Strawbs, Ralph McTell, Paul Brett and many more. He was also highly regarded as one of the best guitar repairers in the UK. He designed the 'JJ' series and the best selling 'Sandpiper' range of guitars made by Aria.

Sadly, in February 2004, John passed away.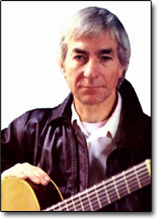 Statesboro' Blues - Kings of the Twelve String

Acoustic 6 & 12 string guitars with lead-guitar by Paul Brett and guest vocal back up by Michele Breeze, this is a great album for Blues lovers. From Jesus on the Mainline to Don't you leave, from Backwater Blues to Statesboro Blues, this CD is recorded as clear as a bell with no added frills. Blues as it should be!